Treehouse symbolizes the joy and freedom of our childhood. If you have children, then you know nothing is better to give them this iconic structure. In childhood, we all are dreaming of staying in the treehouses at least once in a lifetime.
We have gathered some of the best treehouse ideas that you can build in a weekend…or two. Check it out…
1. Classic treehouse:
This is absolutely a perfect creation and adorable and iconic structure for the kids. You can place a wooden structure at the branches so they can be entertained for hours. It can stand still and give an amusing experience to your kids. By creating this wooden structure, you can get your kids out of the house and playing in the backyard. They can feel the natural beauty apart from the digital structure of the web. You can check it out here.
2. The pirate treehouse:
Are your children pirate fans? This will keep them busy for hours. There is a lot of space for moving around. Your kids can play well and freely. It is relatively simple to build.
3. Simple treehouse:
This is a basic structure of wood. This simple structure can give you a perfect option for social gatherings and parties for your children. A simple ladder is there to climb up on the house and settle there.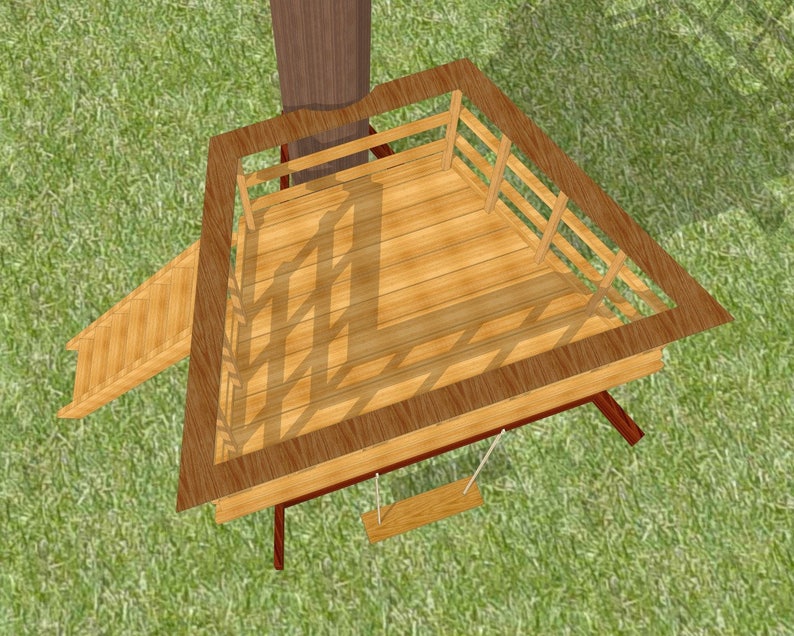 4. Treehouse with a deck or two:
This is the perfect gathering place for all ages. But this is not too big. You can make some small summer gathering here. Click here to see more.
5. Tree for every railing post – treehouse
https://www.instructables.com/id/Treehouse/
6. The inside treehouse:
Children of all ages can enjoy playing in the tree fort. This is a very sporty and encouraging idea for the kids to play outside and keep them aside from the video games. You can get it here.
7. Treehouse with hammocks:
When the kids are away the parents will play…or rest. These are totally for relaxing and concentrating purposes. See the details here.
8. Monkey bars under treehouse
Monkey bars are great for kids practicing to be on American ninja warrior or regular kids who need to burn energy and have a great time. Check it out here.
9. Modern treehouse:
Many people like to decorate their treehouses in modern ways. This is well decorated and your kids will love to play in it. Check it out here.
10. More modern treehouses:
It is a medium-sized but a great place for the children to play. It is made of wood and a simple masterpiece. See it here.
11. Treehouse with big net
Nets are probably the coolest addition to any treehouse. They make it more adventurous and kids and adults alike love them. This will make their dream comes true.
12.Treehouse with net ladder, net bridge
Nets can also be great ladders to access the treehouse instead of building a wooden staircase. Which can take a few hours if you do it right. Consider saving time and using a net to access the landing.
13. The epic treehouse:
Ok, this may take your a few months…or a year to build. It just shows you what cool designs are out there and what is possible.
14. Fun net ladder to treehouse:
This is an easy outdoor treehouse for your kids and family in order to enjoy the adventurous life of nature.
15. Netting. Why stop there:
If you love to spend some time with nature, then this tree house idea is the best one. You will have to add some cushions there in order to spend some quality time with close to nature. Check it out here.
16. Rope swing treehouse:
You can add a rope swing from the treehouse. It is an awesome idea for your kids. It can give entertainment to the children and they want to play outside more and forget about their videogames.
17. Nets floors. Need we say more!:
Net floors are a quick way to put up your treehouse and make it fun for kids and grownups of all ages.
18. Because nets are awesome!:
If you want some personal place to enjoy, then you can create your own treehouse with a net floor. You can make it as per your choice. You do not need to bother about the instructions and rules.
19. Filler up – bucket and pulley!
Treehouses must have a way to get the tools and toys up to the treehouse. Using classic pulley and a bucket is a great way to entertain your kids and keep them safe.
20. Trap door in the floor:
If you love to give some exercise period to your kids, then this adventurous one is very much useful. Your children will love to get this. See the trap door.
21. Floor door!
If you want to make it simple and easy, then you can go for this treehouse. Incorporating the door into the floor ( a full-length door at that), you save time and make the treehouse that much cooler.
22. Fireman pole
This is an amazing idea. You can connect it with another tree and part of your house as well. See all the details here.
23. Safe ladder
Higher treehouses require safer ladders, stairs. Consider a safe rope ladder.
24. If it is high up in the air – build stairs with handrails.
If your treehouse is too high in the air you want to make sure your kids will be safe. Building a handrail/staircase is the best way to go. More info here.
Save space and utilize your shed. Genius!
26. Playhouse/swing set.
Some treehouses are a mix of swingsets and treehouses. It's your house, your rules. See more here.
27. Swings underneath the treehouse.
Use all the space above, on and under your treehouse. Attached swings and you won't be able to drag your kids in for dinner.
29. Low to the ground:
It is a DIY item. You can color it as per your kid's choice. It is very easy to build and great for younger kids who don't want to climb high. You can see the details here.
30. Cozy treehouse:
If you want a treehouse for a long time running then this is the best option. You can put all of your ideas to make it perfect and strong. See the cozy treehouse.
31. The bright one:
Your treehouse can be bright and inviting. It doesn't have to be brown and blend in with the tree. Spice it up!
These ideas are not for kids only. It is also applicable for adults. So, you can enjoy your time with nature.
Top Yard Tools I Use:
Kill Lawn Grubs Now! – This is what the professionals use when you need to get your lawn back….You can apply merit yourself and save 400%. You can check it out on Amazon here. Merit works 10x better than GrubEx or cheap Big Box brands.

Kill Grubs naturally – This is a great organic grub treatment that kills grubs naturally. It is very effective and will not kill your earthworms. I have had much better results with milky spore than with chemicals. You can get it here on Amazon.


Grass seed that grows! Kentucky Bluegrass seed mix designed for full sun and light shade, with a fine-bladed texture and medium drought resistance here on Amazon.

Kill crabgrass now!

Yard Mastery Granular Pre Emergent Herbicide 0-0-7 .38% Prodiamine. This is the professional-grade crabgrass control from the Lawn Care Nut (his other company is called Yard Mastery). Available here on Amazon.

Fertilizer & soil improver

. This really works. Turf Builder Thick'R Lawn Sun & Shade –
-3 in 1 Lawn Fertilizer, Seed, & Soil Improver
-Thicker, Greener Lawn,
-up to 4,000 Sq Ft
Available here on Amazon.
Change your own oil and save $80 – Clean – does not spill
– Easy to dispose oil
– Well made
– Pays for itself on 1st oil change!
Check Price on Amazon here

Solid steel
Quality material
Made in USA (Rockford, IL)
Check Price on Amazon here
If you are looking for the best American built hand tools it makes sense to check out this Round Point Shovel. It is made by Bully Tools, one of the best hand & garden tool manufacturer in the Steubenville, Ohio.




Illinois Glove Company 21 Buffalo Grain Gloves
Extremely durable
Soft, comfortable and flexible
Easy to hold shovels, pickaxes or rakes.
Breathable lining and leather
Made in Illinois
Everyone knows Channellock Pliers are the best pliers you can get. They are rugged and durable and can be passed down to your children once they are old enough for tools. I still have a pair from my dad that is over 40 years old and still works great to this day. They have been in business for over 100 years.